As of midnight, Blue Crucible has gone live on Amazon! It is available in Kindle, Kindle Unlimited, and Paperback formats. It is marked as the seventh book in the Fallen World universe, but note that it is the beginning of a new series in that world. It can be read separately and out-of-order from the other six books. In fact, in terms of chronology, I believe it is the first. All the other books take place months or decades after the fall, but Blue Crucible begins on the day it all turned to crap.
From the back cover blurb: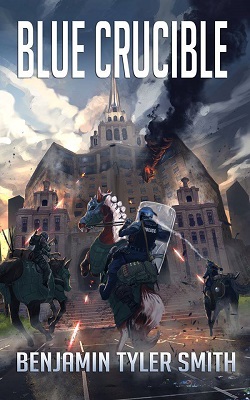 The end came fast for Lieutenant Nathan Ward. One moment he was participating in an international convention of mounted police officers, the next he was in a command bunker watching the world's two biggest Corporations—Obsidian and Teledyne—destroy it in an exchange of nuclear hellfire.
While Columbia, Missouri was spared a direct strike, a near-miss EMP fried most of the vehicles and the electrical grid. Then the Corporations started a shooting war in the streets, and they didn't care who got caught in the crossfire. But Columbia was one of the last cities still standing, and Nathan and his fellow officers weren't going to give it up. Even if it meant facing the worst the Corporate militaries could throw at them.
The Corporations had no intention of giving up the city, either, and Obsidian called in reinforcements to match Teledyne's Specialist, a woman with the power to defeat a company of soldiers all on her own. Both Corporations intended to reign supreme and were willing to crush anyone who got in their way. In the post-apocalyptic world, there was only one law—theirs—and not the one with a badge.
The world may have fallen, but the Thin Blue Line's battle is only beginning.
For those who read it, please consider leaving a review! Every review helps Amazon take notice of the book and start to passively and then actively promote it. It's how small-press and indie authors get noticed. Thank you for your support!
And a huge thanks to Chris Kennedy of CKP, Christopher Woods (the creator the Fallen World), Beth Agejew my editor, William Joseph Roberts and RJ Ladon for helping me with the rough draft, and to all those on the early reader team! That includes two very good friends of mine (Aubree and Bill, thank you both!) and my wife, who has to suffer through all my, "Hey, what about this…?" moments. Thank you all!
Lastly, please consider joining my mailing list. It is rudimentary at the moment, one of those free plugins that comes with WordPress. I am looking into some of the professional services like MailChimp, AWeber, and a new one that's meant specifically for writers. In the meantime, though, I plan for posts on the blog once or twice a week, and e-mails no more than once a week unless something big is happening.
Again, thank you all!