On November 28th, while mass riots break out to see who will limp home with that 50″ TV that's on sale for $99.95, I will start posting up weekly reports on how my writing is going. This will be a little different from the Writing in Public posts, which will begin again December 1st. In those posts I am just giving a basic update on the day's activities and writing, but with WIPika Fridays I will post up brief excerpts of what I am doing. It will be done in the form of a few sentences or paragraphs of a piece to be submitted, or I will go through some of the things I've been brainstorming and how that works for me, or I may show a bit of the outlining process. Or, maybe I will do all three! It depends on the week, and what I think is the most interesting accomplishment for that week.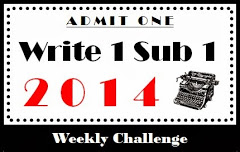 This will go hand-in-hand with the Bradbury Challenge  (Also known as Write 1, Sub 1) that I am also starting Thanksgiving Week. My plan with that is to be a little bit more ambitious and actually Write 2, Sub 2. I want to write a flash fiction story each week, and a full-length short story each week. Will I be able to handle that? Well, we shall see. I am starting this during the holiday season for a reason (And not just so I could rhyme back there). Between November 24th and December 31st there are 38 days, or 5.5 weeks. Let's be ambitious and say that's six full weeks. Going by Write 2, Sub 2, that means I should have written and submitted 6 flash fiction stories and 6 short stories. I also want to write a novella-length work and get it out to Writers of the Future. That's 13 stories in six weeks. If I can manage to do that during the general craziness of the holiday season, then maintaining that pace through 2015 should be a lot easier, barring any family emergencies or illness.
Will it happen? Maybe, maybe not. I know it won't happen unless I attempt it and maintain a positive attitude while doing it. At the very least I will get more written in the next few weeks than I would have had I not pushed myself.
(*) The name of this section was inspired by 2:30 from the following Sequelitis Video by Egoraptor. Warning: profanity, hilarity, and the tearing down of an iconic video game will ensue!