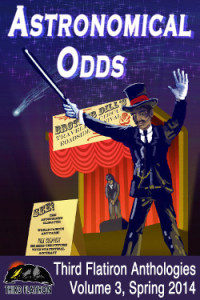 Third Flatiron Publishing's Spring 2014 anthology titled "Astronomical Odds" has its cover art finalized, as well as the author story list.  My fantasy short story "Lost in the Mail" will be included in it along with twelve other stories of science fiction and fantasy mayhem and epicness.  I'm looking forward to reading the other stories, and I hope you'll enjoy it as well!
If you're wondering what "Lost in the Mail" is about, I'll give you this much: it involves a magician, two pieces of critical mail he has to send out, and a postal service with a bureaucracy greater and more complex than any spell.
The anthology comes out on March 15th, so look forward to it!