A few months back, my friend and fellow author William Joseph Roberts let me know about an anthology being put together for a charitable cause. The Impossible Hope anthology came together as a means of promoting and supporting the medical GoFundMe for Bonnie Oliver, who's suffering from a number of issues that require specialized treatment. This anthology is available in digital format to any who donate to the GoFundMe, and will also be available in a physical release sometime soon. Please consider supporting the GoFundMe, or at least spreading the word by sharing links and posting about it. Prayers and well-wishes are needed and appreciated, as well.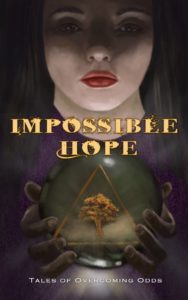 The theme of Impossible Hope was inspirational stories, stories that people could take hope from. There was no genre limitation, so the stories ran the gambit from nonfiction to fiction, literary to speculative. Since I can't help but write speculative fiction, my story "Blue Pearls" was a modern-day / near-future fantasy about a deep dive worker operating out of Ago Bay in the part of Japan where they have a lot of pearl beds.
During his short tenure there my protagonist has managed to befriend a mermaid, who brings him a gift of pearls. But, before he can take the offered gift, disaster strikes. If they're going to survive, they'll have to work together. It's a short piece, a little longer than what some would consider flash fiction (1,000 words or less) but not by much. In its original form a few years ago, it was short-listed for Flash Fiction Online, but ultimately didn't make the cut for a variety of reasons, one of them being the sheer amount of grammar and spelling issues I hadn't noticed in my muse-fueled haze of drafting and editing. The other issues with it required me to expand the story into the form you will find in the anthology. I'm happy with how it turned out, including the ending that's a little open-ended. Depending on if you're a glass half-full or half-empty kind of person, it'll have a different result.
Yesterday, a few of us got together on a podcast hosted by Ben Wheeler and April Freeman, to talk about our stories and what inspired us to write them and to contribute to the anthology. It's about 43 minutes, and was a lot of fun:
In the anthology, you will find the following stories by the following authors:
Do Something – Logan Lewis
Battle Buddy – Tom Rogneby
Queen's Gambit – David Freiberg
Glastonbury Abbey – Josh Griffing
Four Funerals and a Wedding – L. Jagi Lamplighter
A Random World of Delta Capricorni – John C Wright
Shoulders of Giants – Dave Higgins
Sir Ronan and the Smooth Road – Frank Luke
Buddy – William Joseph Roberts
Bullies and Soggy Soup Bones – Woelf Dietrich
Battle Within – Musaab Sultan
Take My Breath Away – Sam M. Phillips
Ghosts of Camlan Hill – Ben Wheeler
Moulin Rouge's Last Secret – Denton Salle
Life on the Fringe – B. Michael Stevens
Blue Pearls – Benjamin Tyler Smith
The Other Side – Heather Hood
Invisible Battles – R.J. Ladon
With Royal Beauty Bright – Nicholas Arkison
The Switchman's lantern – James Pyles