If you like it when your sides hurt, this show is for you. 4.5/5.0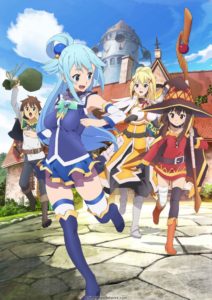 When season one of Konosuba ended, my wife and I were excited to see a second season was already in the works! It's taken us a bit of time, but we've finished with season two, and we're hoping for a third to come, a third that seems highly likely if rumors are true.
If you haven't seen season one yet, I won't be throwing any spoilers in this post. To sum it up, the story is about a Japanese teenager named Kazuma who dies in a rather silly way and gets the chance to be reincarnated in another world as himself (Same age and everything) and with one item or skill of his choosing. The goddess Aqua, who greets him on the other side with mockery and derision, learns the hard way that Kazuma is, if nothing else, rather vindictive. He chooses her as his "item" and both of them are thrust into a fantasy world oppressed by an as-yet-unseen demon king, with the mission of defeating him if either want to go back to their respective worlds. They then add two new members to their party, and hijkinks ensue (  Hijinks ensue. (Hi-jinks? High jinks? It's an odd word).
Season one was hilarious, and season two is just as good. The humor is mostly a result of the interactions between the four main characters as they attempt to accomplish whatever quest they're dealing with in that particular episode or episodes. Kazuma's party couldn't be more different. Kazuma is more-or-less the straight man for the show, though he has his moments. Aqua is an amazing healer, but she's dumb as a box of rocks and always ending up in debt. Megumin is a magician obsessed with only the most powerful spell in her discipline (Think Meteo in the Final Fantasy universe). And Darkness the Paladin is a bit too interested in being a damage sponge, to the point that she's useless with her sword.
There's almost always a complication, and those complications are almost always caused by one or more of the team members. For instance, a recurring issue for Kazuma is a rival hero who came to the world much like him, only he chose some mystical, legendary sword for slaying evil. When the two end up facing off against each other, Kazuma steals the sword with his special ability and then sells it. Funny at the time, but there are several instances throughout the show where that hero and his sword would have come in handy, but now Kazuma and his party of misfits are on their own. And then there's a general of the demon king's army who sets up shop in a nearby castle and is content to leave the heroes' city alone until a certain explosion-obsessed magician decides to go and blow his castle up. Every day. For weeks:
For those seeking a good laugh, this show has it all. I will warn that there is also a fair amount of fan service in it, especially with Darkness's character. Lots of bounciness and some "might-as-well-be-naked" moments. Even then, it's done in a way that parodies other shows.